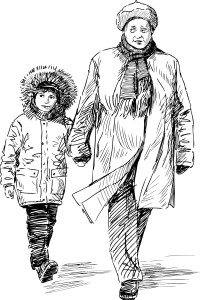 Dear Friend:
I am not sure if the story is factual or if it is an old fable filled with truth and inspiration but in either event it came to mind as I sat down to send you this Christmas letter.
In a large city in the north, on a cold, snowy December afternoon, a kind-hearted woman was busy in a downtown department store getting her last minute Christmas shopping done. As she exited the store she noticed a young boy standing near the bus stop. Despite the weather his head was uncovered. His coat appeared to be tattered. There were no gloves on his hands and as he shivered in the slush on the sidewalk she couldn't judge the state of his shoes. Her motherly heart instantly filled with compassion and concern for the tyke. As she gathered all her bags onto one arm she went over and approached him, saying, "Young man you look like you're cold". "Yes Ma'am, I am" he said. She took hold of his frigid hand asking him to come inside the store with her so they could do something about that. With an industriousness and grace, that only mothers have, they made their way to the boys' department. In next to no time the young boy was outfitted with new corduroy pants, a sweater to wear and one to take home, warm socks, new boots, a flannel shirt or two, a parka with a hood, gloves and a cap as well. The young boy stared in utter amazement as the woman seemed to get happier and happier with each purchase and his accompanying delight. After they had finished shopping she walked him to the door of the store. The child was thrilled and kept saying, "I can't wait to get home to show Mama all my new stuff!" He ran to the bus stop, bags in tow and then once he got there turned around immediately and ran back to his smiling benefactor. "Ma'am thank you so very much. But can I ask you a question?" he said. "Of course" she said. The little boy asked, "Are you God's wife?" The woman chuckled and said, "Goodness no. But I am one of His children." "I knew it! I knew it!" he screamed, "I knew you had to be related!"
And so it is true. In the eyes of so many children and others who have been served by Resurrection Catholic Missions this past year your generosity and prayers have allowed us to be God's hands and hearts, teaching, feeding, clothing, healing, listening and proclaiming the Good News. We are so grateful.
As we celebrate the birth of the Savior, the greatest gift ever given to the world, your gift this Christmas will enable us to continue to show God's love to so many in need. May we and the little tykes who depend on us depend on you once again? Thank you and Merry Christmas.
In Jesus, Mary and Joseph,