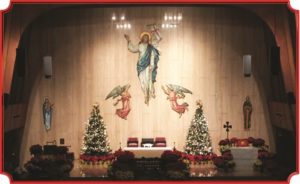 Dear Friend of Resurrection:
What a year this has been!  Across our country and our world, we have seen challenges and tragedies of all manner. From a succession of hurricanes, floods, fires, and earthquakes, it appears that even Mother Earth is convulsing. The perennial mass shootings, even in places of worship, have horrified us all. Many of our political leaders, at all levels of government, continue to fail us and to further divide an already fractious nation. If ever there was a year when we need Christmas, it is this year. I am reminded of song lyrics from the famous musical, "Mame": 
For we need a little Christmas, Right this very minute, Candles in the window, Carols at the spinet, Yes, We need a little Christmas, Right this very minute.
It is good that we note that the Savior, whose birth we celebrate this Christmas, was born into a world in that day which was also racked by challenges and tragedies, some natural and others created by humanity. Yet it is His birth which affirms God's undying love for humanity and desire that we all have life abundant in this world and eternal in the world to come. Each and every year that God sends, we do indeed "need a little Christmas". Throughout this year, you have responded to the needs of the school children, indigent seniors, collegians and families and individuals in need of the basic necessities of life with generous support and fervent prayer. This Christmas 2017, I thank you for all that love offered to those we serve and thank you in advance for helping us as we serve hundreds in the days and weeks ahead who literally need a little Christmas right now. Be assured of our prayers as we celebrate the Advent and Christmas liturgies in our beautiful Mission Parish Church.
May you and all those you love have a Blessed Christmas and a Joyous New Year!
In Jesus, Mary and Joseph,

Father Manuel Williams, C.R.
Mission Director and Pastor