On Saturday, January 27, 2018, more than 400 people filled Resurrection Catholic Church to praise and thank God for the life of Deacon Fred James Briers, Jr. Deacons, priests, religious women and faithful from throughout the Archdiocese of Mobile, joined Knights and Ladies of St. Peter Claver from across the country in a Mass of Christian Burial for Deacon Fred.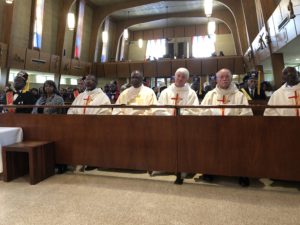 With a bittersweet blend of joy and tears, Deacon Briers' life was reflected on in the light of Jesus' Beatitudes from the Sermon on the Mount in a homily offered by Father Manuel Williams, C.R. Past Supreme Knight, Judge Arthur McFarland proclaimed the first reading from the Book of Ecclesiastes and Supreme Lady Vertelle Kenion proclaimed the second reading from St. Paul's Letter to the Romans. The United Voices of Resurrection Parish choir and pastoral musician, W. Clifford Petty, led the congregation in powerful and consoling sung prayer. Several worshipers noted the entire celebration was uplifting and a wonderful tribute to a man who loved the Lord, his family and his community with his whole heart.
To view an excerpt from the celebration of life, click the video below. To view the celebration of life in its entirety, click here. 
Those interested in honoring Deacon Fred's memory may contribute to the scholarship fund established in his name by clicking here or in person at Resurrection Catholic Missions of the South, Inc.